Are there any other ways to get to the island?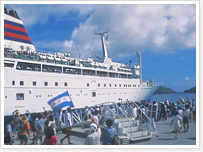 【Ogasawara Maru Sailing from Chichijima】
The Ogasawara Maru is the only regularly scheduled passenger ship to the Ogasawara archipelago. There are no commercial planes to the islands. The Ogasawara Maru departs from Tokyo about once every three days during the summer vacation period, and about once a week during the rest of the year. Departure days vary from week to week, so please check the schedule.
Do the islands have accommodations for large groups of people? What kind of lodging facilities are available?
There are no large resort hotels on the islands. Most visitors stay at guesthouses (minshuku), although some hotels and boarding houses ("pensions") are also available. Large groups will have to split up among multiple facilities. Most accommodations are family run, offering a domestic atmosphere and usually including some meals. Accommodation without meals is also available, however. There are no hot-spring accommodations on the islands.
For more information about accommodations on Chichijima,
please call the Ogasawara Tourist Association at 04998-2-2587.
For information about accommodations on Hahajima, call the Hahajima Tourism Association at 04998-3-2300.
Can I make reservations to stay on the islands?
Our company (OgasawaraKaiun) does not handle reservations.
For information about reservations on Chichijima, you can call the Ogasawara Tourist Association at 04998-2-2587.
For reservations on Hahajima, call the Hahajima Tourism Association at 04998-3-2300.
Of course, you can also contact the guesthouse or hotel directly to make a reservation.
Also please be aware that we offer a package tour ("Ogamaru Pack") that includes round-trip 2nd-class transportation, three nights room and board (6 meals total), and numerous discount coupons.
Are there any hot springs (onsen) on the island?
Do you have any recommendations on what to eat on the islands?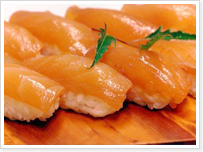 【Island Sushi】
The island sushi is distinctive. Try, for example, some marinated whitefish-such as Spanish mackerel-spiked with yogarashi rather than the more typical wasabi.
In the days before electricity and tap water, residents on these subtropical islands would marinate their fish in soy sauce. Today's residents have kept that tradition alive. The resulting taste varies somewhat according to the marinade, of course-sometimes a bit spicy, sometimes with a sweet-sour quality. But all of these tastes are very distinctive to the islands.
You might also want to try turtle dishes. And try something that includes the premium fish called akaba (blacktip grouper).
If traveling in the spring, try the island's tomatoes and the passion fruit. In the fall, try the lemons. These also make good gifts, and can be purchased at local souvenir shops and from shops run by the JA (Japanese Agricultural Cooperatives) Group.
How can I get around on the islands?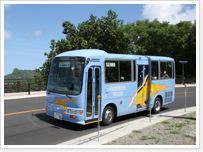 【Village Bus】
Most guesthouses and hotels will send someone to meet you at the port.
On Chichijima, you can get around on village buses. There are two routes: one that circles the main area, and another that run to Kominato Beach on the south of the island. Buses come about once an hour on each route. Stop by the Ogasawara Community Bus Terminal (located next to the Hall of Commerce, Industry, and Tourism) for assistance, or call them at 04998-2-3988. To view bus routes and schedules, visit the Ogasawara Village website.
Car rentals and taxis are also available on Chichijima. Riding small motorcycles is a good way to go around, and they can be rented on both Chichijima and Hahajima (requires driver's license).
Bicycle rentals are also available, although the many steep slopes may make for difficult riding.

Village Bus Fares
Any recommendations on what gifts or souvenirs I should buy?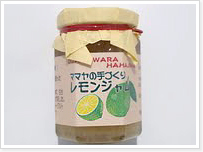 【Lemon Jam】
You can find many interesting woven handicrafts made from the leaves of the pandanus tree-a prewar folk art still practiced today. Lemon jam, produced from local fruit, is also a good gift. So is natural sea salt taken from area's the extraordinarily clear seawater. And the slip-proof "fish" sandals that the local fishermen like to wear.
How is the weather in the area? What type of clothing should I bring?
The climate is very pleasant. Temperatures almost never fall below 10°C (50°F), and rarely rise above 31°C (88°F). Remember to bring along a hat, sunglasses, and sunscreen, as the sunshine is strong all year round.
| Average over last 5 years | Jan. | Feb. | Mar. | Apr. | May. | Jun. | Jul. | Aug. | Sep. | Oct. | Nov. | Dec. |
| --- | --- | --- | --- | --- | --- | --- | --- | --- | --- | --- | --- | --- |
| High (°C) | 20.8 | 20.9 | 21.5 | 22.8 | 25.4 | 28.2 | 30.5 | 30.5 | 30.1 | 28.7 | 26.1 | 22.6 |
| Low (°C) | 15.9 | 15.8 | 16.5 | 18.2 | 21.1 | 23.8 | 25.6 | 26.1 | 25.8 | 24.3 | 21.8 | 17.9 |
| Precipitation (mm) | 75.9 | 68.1 | 85.8 | 126.6 | 157.3 | 131.2 | 74.0 | 77.9 | 154.0 | 176.0 | 106.8 | 118.2 |
| Average water temperature (°C) | 21.0 | 19.9 | 21.5 | 21.0 | 21.9 | 23.6 | 28.5 | 29.1 | 27.4 | 26.8 | 25.3 | 23.0 |
Can I access the Internet from the islands?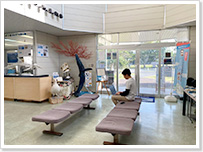 【Ogasawara Village Information Center】
On Chichijima, you can access the Internet from the Ogasawara Village Information Center, for a fee of 200 yen per hour.
The Center's phone number is 04998-2-3780.
The Center is about a 30-minute walk (up a hill) from Futami port
How about hospitals, banks, post offices, ATMs, and convenience stores?
Medical clinics are available on both Chichijima and Hahajima.
A JA bank and the Shichitō credit union (Shichitou-shinkumi) are located on Chichijima. Both have ATMs.
Chichijima has a post office, and Hahajima has a postal agency. Both of these have postal ATMs. Another postal ATM can be found at Futami port, in Chichijima.
Please note that all ATMs may be closed on certain days, and on certain times of day.
There are no convenience stores on the islands. But you can find supermarkets, general stores, pharmacies, stationery stores, and other types of stores as well. You should have no problem shopping for food and for other daily necessities. But keep in mind that stores on the islands are not open at night.
Can we camp on the islands?
Camping on the islands is forbidden by law, for reasons of safety and environmental protection. Please stay at a guesthouse, hotel, or similar facility.
How can I get to Hahajima?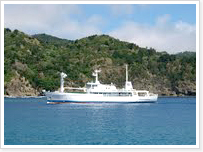 【The Hahajima Maru】
The Hahajima Maru, a liner operated by the Izushoto-Kaihatsu Corporation, makes regular trips between Hahajima and Chichijima. Departure and arrival times vary by day, so be sure to check the schedule. You can make a day trip to Hahajima on the second day after each landing of the Ogasawara Maru at Chichijima.
Is there a way to travel on to Iwoto (Iwojima)?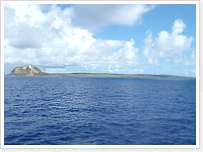 【Iwoto】
Chichijima and Hahajima are the only Ogasawara islands with regular liner service. Also, please be aware that civilian access to Iwoto is highly restricted.
Our company (OgasawaraKaiun) runs a once-a-year sightseeing cruise that sails close to Iwoto, Minami Iwoto (South Iwojiima), and Kita Iwoto (North Iwojima). Although the cruise does not land on these islands, it offers good views.
When are the best times to go whale watching and dolphin watching?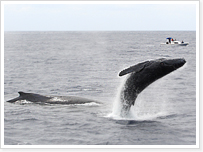 【Humpback Whales】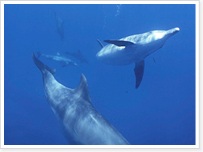 【Dolphins】
Humpback whales approach very close to the islands from February through April. Sperm whales can be viewed at some distance from the islands from mid-August through November. Bottlenose and spinner dolphin can be seen near the islands year-round. Please be aware, however, that whales and dolphins do not always show up where expected; attempts to see them are sometimes unsuccessful.
For more information, contact the Ogasawara Whale Watching Association, at 04998-2-3215.