Regular Route and Schedule of the Ogasawara-maru
Outward voyage


Tokyo -> Chichijima

Return voyage


Chichijima -> Tokyo

11:00
Tokyo Takeshiba
15:30
↓
↑
14:10
Sunosaki
12:30
↓
↑
14:50
Izu Oshima
11:50
↓
↑
16:10
Miyakejima
10:30
↓
↑
18:50
Hachijojima
7:50
↓
↑
1:20
Torishima
1:10
↓
↑
9:00
Kitanoshima
17:30
↓
↑
9:40
Yomejima
16:50
↓
↑
11:00
Chichijima
15:30
Sights of Interest Along Our Route from Takeshiba, Tokyo to Chichijima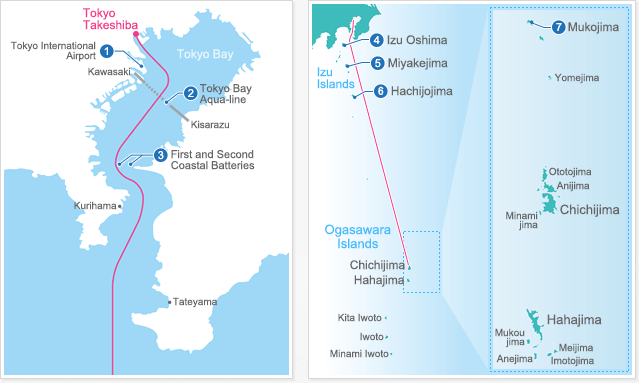 ① Tokyo International Airport (Haneda Airport)
Located in Ota-ku, Tokyo, Haneda Airport (also called Tokyo International Airport) is the air gateway mainly for domestic flights to Tokyo. A fourth runway was completed in October 2010.
② Tokyo Bay Aqua-Line
Completed in December 1997, this toll bridge-tunnel complex (15.1 km long) links the city of Kawasaki (in Kanagawa Prefecture) with the city of Kisarazu (in Chiba Prefecture). The complex is divided into two sections: a 9.6-km tunnel on the Kanagawa side and a 4.4-km bridge on the Chiba side.
③ First and Second Coastal Batteries
To protect against foreign invaders, three offshore coastal forts were built during the Meiji period between the present day cities of Futtsu (in Chiba Prefecture) and Yokosuka (in Kanagawa Prefecture). A lighthouse of Japan Coast Guard is established now.
④ Izu Oshima
Izu Oshima is the largest of the Izu Islands and the island closest to Tokyo, situated about 120 km (75 miles) to the south of downtown Tokyo. Many tourists visit throughout the year including the trekking of Mt. Mihara which is famous as Gojinka (deified volcano ), Mt. Mihara Hot Spring (Miharayama Onsen), and the famous Camelia Festival held from January to March.
⑤ Miyakejima
Miyakejima is located about 185km (115miles) south of Tokyo. Mt. Oyama, the active volcano at the center of the island, last erupted in 2000, forcing all inhabitants to evacuate. The inhabitants finally began to return and rebuild the island in February 2005. Tourists visit the island to enjoy activities such as fishing and birds watching. To the south is Mikurashima, a smaller island shaped like an inverted bowl.
⑥ Hachijojima
Located about 290km (180 miles) from Tokyo, Hachijojima takes the form of a gourd with two prominent mountains, Mt. Hachijofuji to the north and the 700 meter (2,297 ft) Mt. Mihara to the south. Thousands of tourists visit the island's many hot springs throughout the year. The Oagasawara-maru calls at Hachijojima each June, linking the island with Chichijima.
⑦ Mukojima ("Bridegroom Island")
Mukojima, the northernmost island of the Ogasawara Archipelago, is situated about 930 km (578 miles) from Tokyo. Though uninhabited at present, the island was home to stock farmers before World WarⅡ. A plan for migrating albatross to the island has been promoted since 2006.
Nakodo-jima ("Matchmaker Island") and Yomejima ("Bride Island") are two other prominent Mukojima Islands.